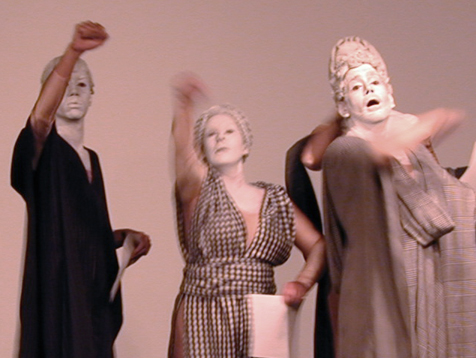 Overview
The Roman Forum was a series of linked online improvisations and stage events centered on the 2000 Democratic National Convention (Aug. 11-19) and set against the backdrop of Imperial Rome. This neo-Vaudevillean exploration of the roots of the American political spectacle built on the idea that we are still Roman in our heads, especially when it comes to politics—in our notions of civic virtue, the particular types of corruption our system is prey to, and our imperial attitude towards the rest of the world.

As co-creator of this work (with director Robert Allen), I was responsible for writing and editing those sections of the script that were not improvised live and for most of the stage design, as well as working with the online group as director and performer.
Democratic National Convention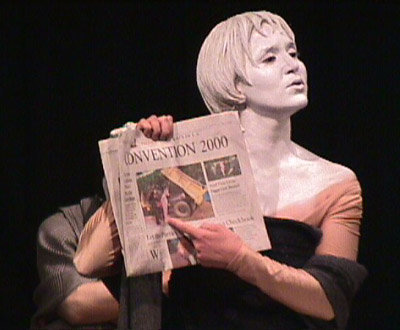 Each morning during the Convention, "The Roman Forum" began with a live online improvisation in which five ancient Romans responded to unfolding events of the week. The text generated during this improvisation was instantly adapted into a script and given to a group of five stage actors to rehearse. That night, the new script (together with a large amount of other material) was presented as a unique stage event at Side Street Live in downtown Los Angeles. Material from each night's performance was videotaped and uploaded to the web during the week of the Convention for viewing worldwide.

By chance, it turned out that the most eventful period of the 2000 elections took place after the voting was over, beginning with the infamous 37 days without a president-elect. We immediately embarked on a sequel to The Roman Forum 2000 which eventually saw light as The Roman Forum Project 2003.
Costume design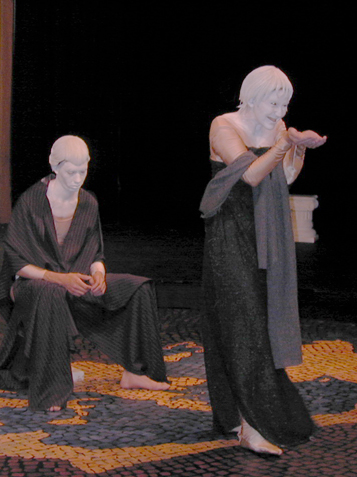 We saw the players—both our performers and today's politicians—as composite figures: contemporary from the shoulders down, but marbleized Romans from the neck up. This hybrid image was reflected in our costume design: white face-and-bust makeup, and toga-like costumes made of the kinds of cloth used for modern business suits.
Set design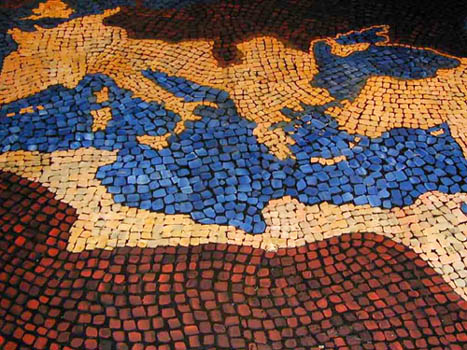 The set design was kept deliberately spare. Its major feature was a floor mural I designed to resemble a Roman mosaic, showing the extent of Roman influence around the Mediterranean in the 1st century C.E.
Selling the presidency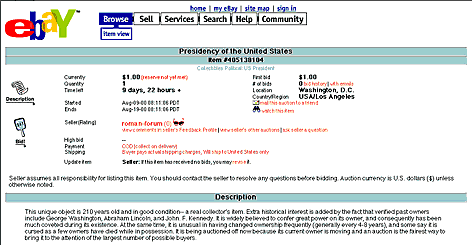 On August 9, 2000, my 'Romans' put the U.S. presidency up for sale on eBay, under the category "Collectibles: Political (US): Presidency." The description read in part: a "unique object ... 210 years old and in good condition." The auction ended on August 19th with a winning bid of only $10 million, which at the time was the highest that eBay allowed. However, eBay subsequently canceled the auction, stating that joke auctions were not allowed. This may have been the first time the U.S. presidency was put up for auction on eBay; certainly, a host of imitators followed throughout the 2000 campaign and afterwards.