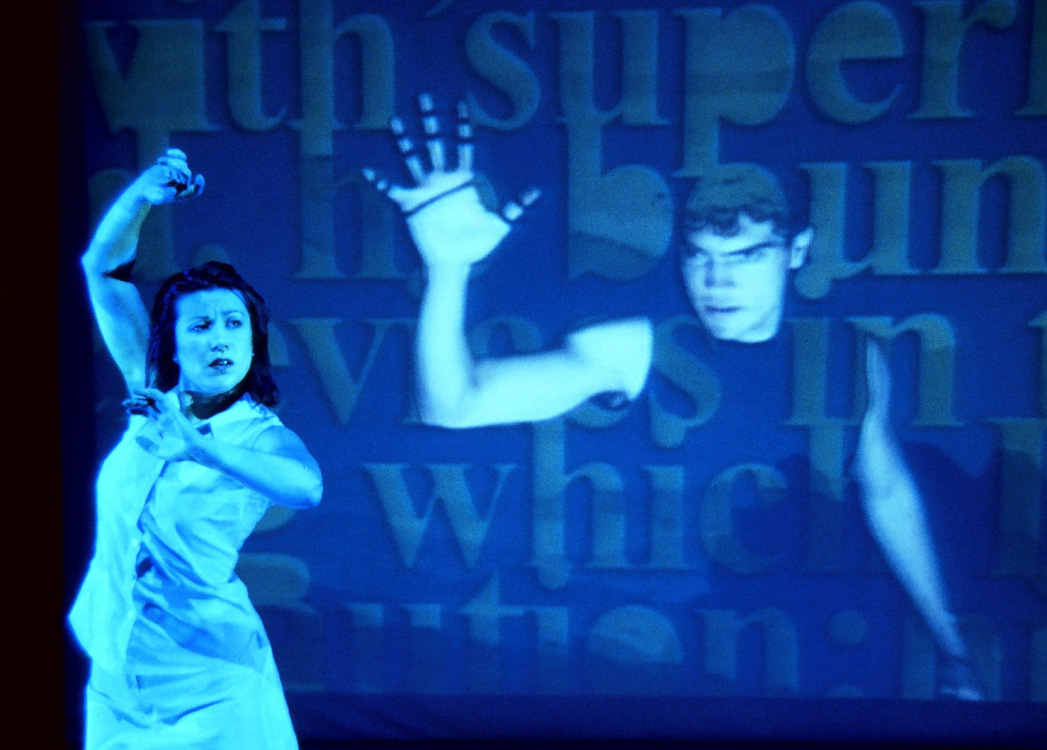 Overview
In 2003, I worked with theater director Annie Loui and neurobiologist James Fallon to co-create Reading Frankenstein, an intermedia performance in which a contemporary scientist named Mary Shelley discovers that one of her failed artificial life experiments is running amok in her laboratory, at the same time as the novel Frankenstein is haunting her imagination. Using layered digital projections, brain imaging, and a virtual creature interacting with a live human actor, Reading Frankenstein examines the ethical repercussions of scientific research from the creature's point of view.

My main roles on this project were projection/video artist and lead scriptwriter. Annie Loui initiated and directed the project, while Jim Fallon was our consultant on the neurobiology of reading. The creative team also included lighting designer Lonnie Alcaraz and composer Mark Zaki.

Reading Frankenstein was shown in a workshop version in May 2002, and the full production premiered at the Beall Center for Art + Technology, UC Irvine, in spring 2003. I subsequently gave a talk about the project for the "Brides of Frankenstein" exhibition at the San Jose Museum of Art. By a fluke, all the video documentation for the 2003 production was lost. There remain still images and projection videos, as well as some documentary video from the 2002 workshop production.
Environmental design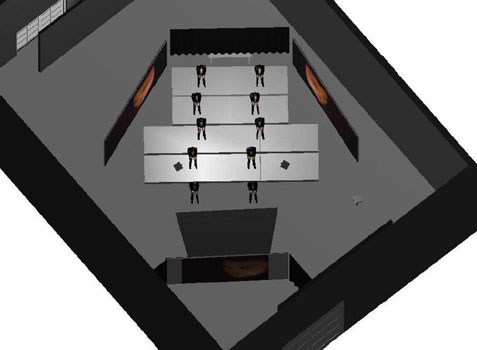 Multiple projection surfaces and surround sound created a shared environment for both performers and audience. Lonnie Alcaraz'a lighting design was built around the projections I devised. Mary Shelley appeared live, on stage, while the Creature manifested its presence through live video and data projections. The confrontation between Mary and her Creature culminated in a futuristic gaming environment. Throughout, text turned to imagery, and the reader lived within the story.
Telematics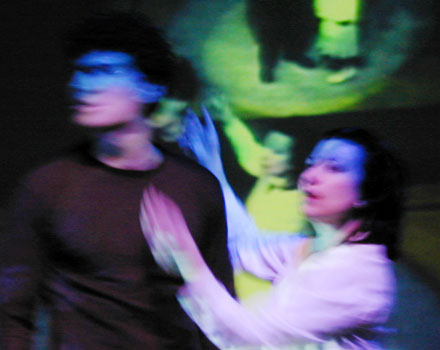 Until the last scenes of the piece, the actor playing the artificial "Creature" made by Mary Shelley remained offstage. A variety of techniques and technologies were used to allow the remotely located actor playing this virtual Creature to interact with Mary Shelley and to move from one virtual stage location to another.
Projection design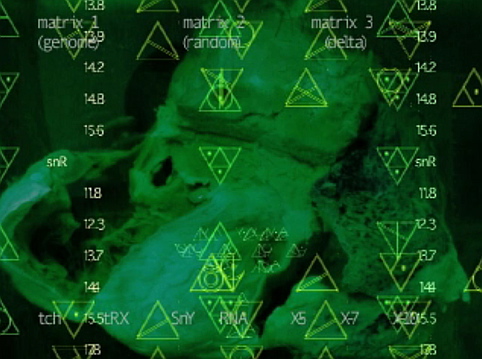 The still above shows my design for Mary Shelley's computer interface to her Creature. It featured a mix of English text and a triangular symbolic font of my own design, mixed with imagery representing the Creature's state of mind.
Artificial life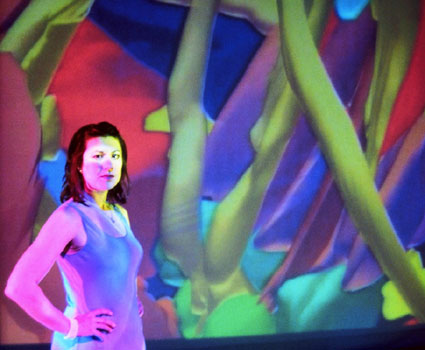 In one scene near the end of the piece, the scientist Mary Shelley outlines some possibilities for making her next Creature a different kind of quasi-biological artificial life form — a speculative convergence between biotech and nanotech.
Project development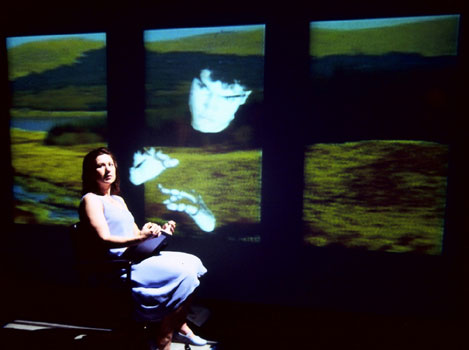 Reading Frankenstein was supported by an Audrey Skirball Foundation (ASK) Script Development Award (spring 2001); and subsequently by Beall Center for Art and Technology Fellowships (2002, 2003) and a University of California Institute for Research in the Arts (UCIRA) grant (2002). A digital presentation of the project during the middle of its developmental phase took place in November 2002 at the Freie University of Berlin under the auspices of performance studies scholar Erika Fisher-Lichte.