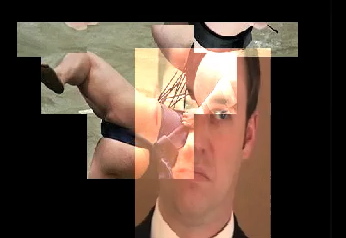 Overview
Hangmen Also Die is a programmed video installation that I created with director Robert Allen. Together, the installation and an associated live performance model the problematic nature of collective memory as a bulwark against personal corruption and despair. A nameless government functionary talks about all the things that have troubled him over the years: the stalking, the lying, the betrayals. Most of all, the endless self-justifications required to perform questionable activities in the service of an ideology. By turns dark and funny, bitter and reflective, it premiered at the Laguna Museum of Art in 2010.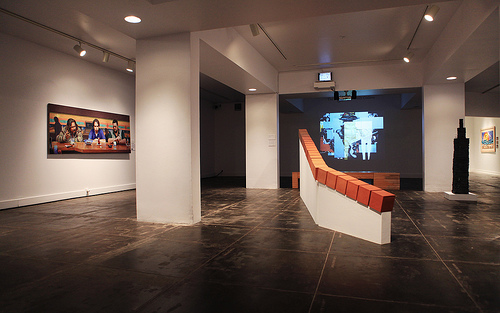 The video links on this page launch brief screen-capture videos from one of the installation's nearly infinite number of unique cycles.
Programming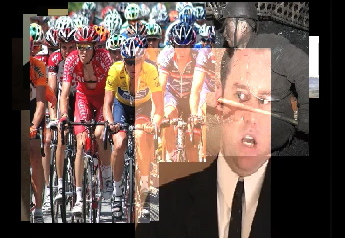 In the first phase of this piece, the actor seen here (John Mellies) interacts with a projected video environment as he delivers a short monologue. When this live phase of the piece ends, it triggers the installation component, which continues, echoes, and extends the live event. In the installation phase, fragmentary video clips of the actor's monologue are embedded in a semi-randomized visual environment. Over the course of a 70-minute cycle the piece is programmed to gradually break up and degrade, triggering successive attempts to salvage meaning by re-interpolating material. Because of the aleatory nature of the piece, no two cycles are ever identical, meaning that the clips seen here are unique to the cycle from which they were captured.
Text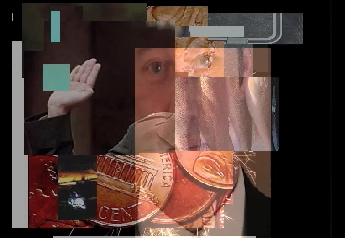 The text for this piece is a poetic montage I wrote, incorporating text fragments by Bertolt Brecht, Heiner Müller, Arthur Koestler, and others. The title comes from a 1943 movie directed by Fritz Lang and written by Brecht, Lang, and John Wexley. Here is an extract:
Freedom is not an option.
No one sees how much it takes to maintain this.

Anger and tenacity.
A grasp of detail.
The will to strike quickly.
Cold patience.
Endless waiting.
The devotion to an ideal unto death.
We can only change reality when taught by reality.