Overview
In 2002, I took a trip through parts of the Southwest — mainly California, Arizona, New Mexico, and Colorado — to photograph bodies of water. I was mostly interested in unglamorous water like ditches, small reservoirs, and irrigation canals, as well as creeks and rivers where they passed through urban areas. Almost the entire western part of the United States depends on these unobtrusive waterways, as well as the even less visible systems of pipes and pumps that move fantastic amounts of water from the mountains to the cities.
I photographed every site with a digital camera, with the expectation of later stitching the series of images into panoramas. These were not seamless images — I could have used automation software for that — but hand-made panoramas in which the joinings and ruptures played an important role in the finished image. I have been working on the "Western Waters" panoramas ever since, as they are very time-consuming to build.
Blythe, CA, irrigation canal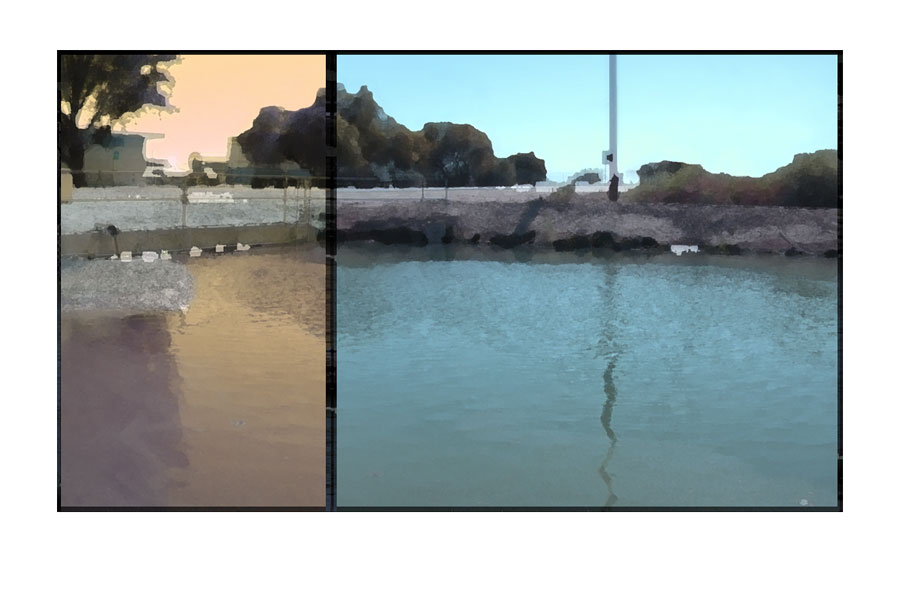 As its title suggests, this panorama was made in the small city of Blythe, which sits on the border of California and Arizona, straddling the Colorado River. It was one of those hot, dry summer days when all life seems to have been sucked away except for a few sparse weeds. While I was photographing this site, I began to feel as if it could never change, and that I too might be there forever, gradually slowing down until I turned to concrete myself.
This panorama was composed of half a dozen individual images, with the black-line dividers placed to punctuate the visual rhythm of the piece and create five smaller images. I colorized and abstracted it as a visual analog of the mental effort I had to make to imagine the site as otherwise than it was then, a composition of austere mauve-browns, gray-greens, and muddy blues. What might it look like at sunset, in the winter, under the influence of a fever? This is the first of the panoramas to be completed.
Denver, CO, canal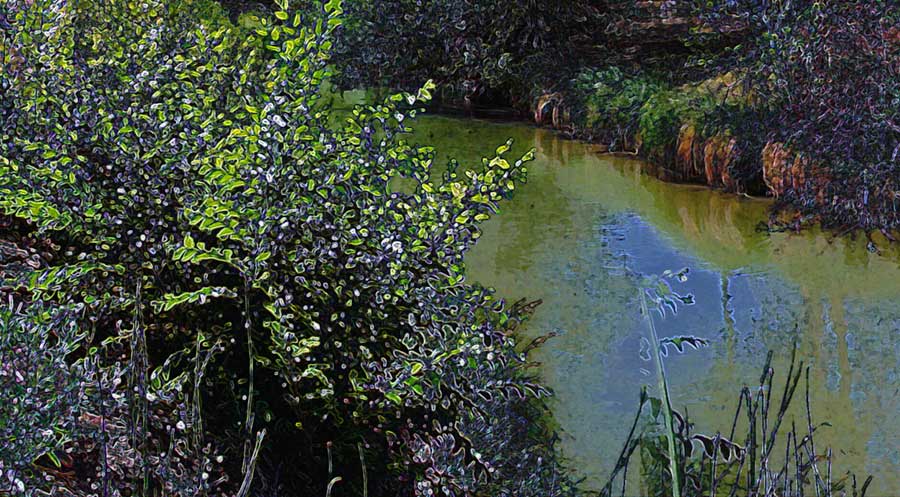 This panorama was made along a sluggish backwater running through Denver, Colorado, where the vibrant, shaggy life along the banks contrasted starkly with the toxic-looking water.