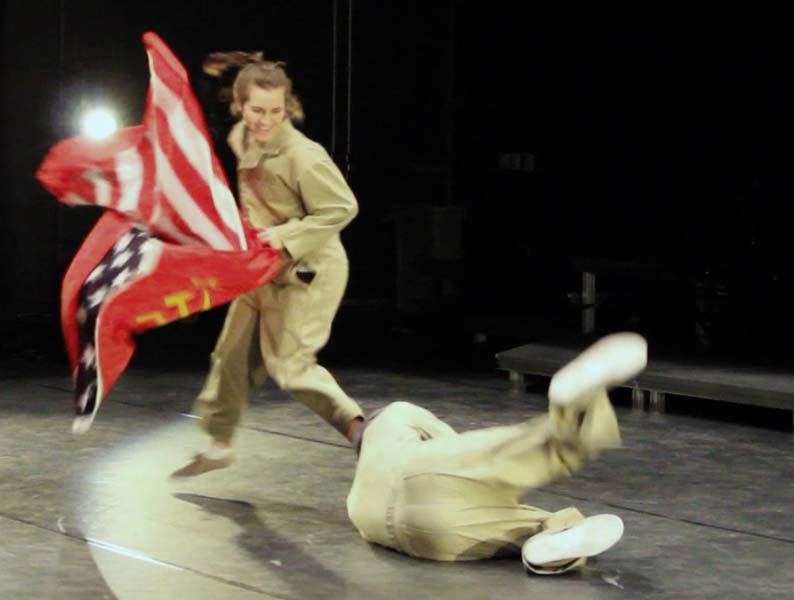 Overview
Galileo in America is an original theatrical work in which clowns and inquisitors share the stage. Equally cabaret and courtroom, it is nominally set in the 1940s, when German playwright Bertolt Brecht fled to Santa Monica to escape the Nazis. But in the surreal time-space of the piece, Brecht meets both a character from one of his own plays and the FBI agents who had him under surveillance as a suspected communist.

During his exile in California, Brecht works on a new production of a play he has written about Galileo's struggle with the Catholic Church. The noted film actor Charles Laughton helps him with the translation and takes on the role of Galileo himself. Meanwhile, Brecht and his friends are being dogged by FBI agents, while Brecht is having trouble with Galileo's daughter Virginia, who is unhappy with her depiction in Brecht's play. Then, at the very end of this troubled period, Brecht has his own reckoning with authority when he is called to testify before the infamous House Un-American Activities Committee.

Created with director Robert Allen, Galileo in America took place at the Experimental Media Performance Lab at UC Irvine, a brand-new high-tech black-box space in the just-opened Contemporary Arts Center. Galileo in America was part of "By & About Brecht": a mini festival organized by the Drama and Studio Art departments at UC Irvine to present a pair of works created and inspired by the seminal German playwright and theorist Bretolt Brecht. Pairing the brechtian Galileo in America with Brecht's own Mother Courage and Her Children, the "By & About Brecht" festival was a timely theatrical confrontation with our national disquiet over the realities of war, the price of success, and the erosion of civil liberties.
Creative team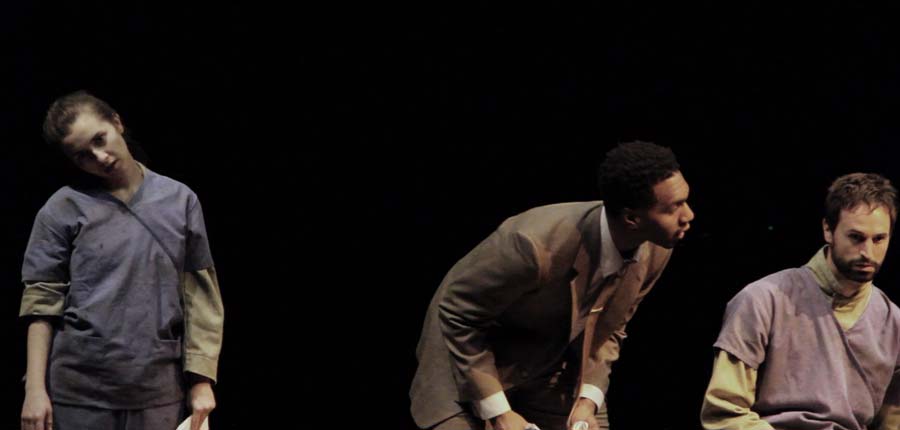 The team for Galileo in America included composer Philip White, lighting designer Ian Garrett, and costume designer Melody Brocious. The cast included Sam Breen (Brecht), Toussaint Jean-Louis (Galileo/Laughton), Kristina Kahveciyan (Virginia), Christopher Rivas (FBI Agent), Tasha Tormey (Clown 1), and Jay Wallace (Clown 2).
Environmental design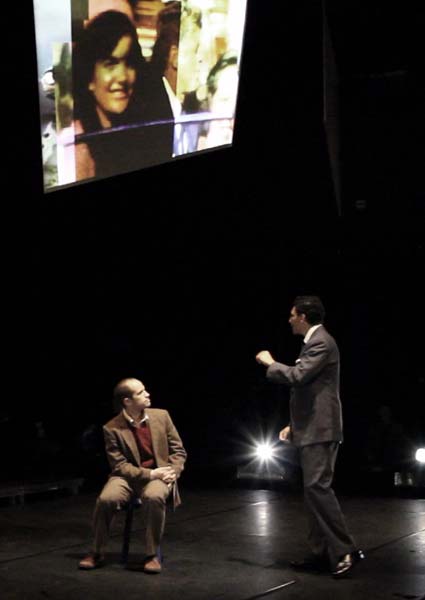 The set was kept deliberately bare, with most of the environmental elements provided through a trio of 3 projection screens hung above the actors' heads, creating a complementary theatrical space that functioned as a kind of mindscape. The audience was seated tennis-court style, and the projection screens were positioned along the long axis of the stage, parallel to the seating.
Project development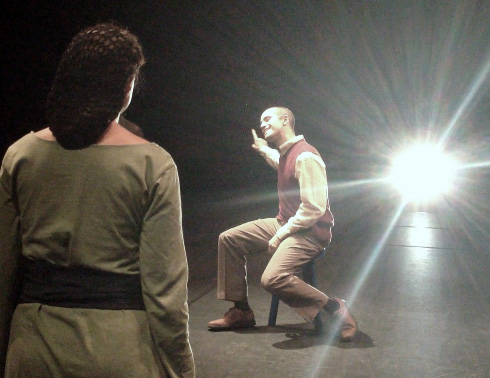 After its initial development phase, Galileo in America was presented in two staged readings, at the Goethe Institute in Los Angeles, and at the Villa Aurora in Pacific Palisades, both in 2004. In the run-up to the 2012 production, we ran a fundraising campaign on Indiegogo, and all contributors received a photobook of the production.
Production support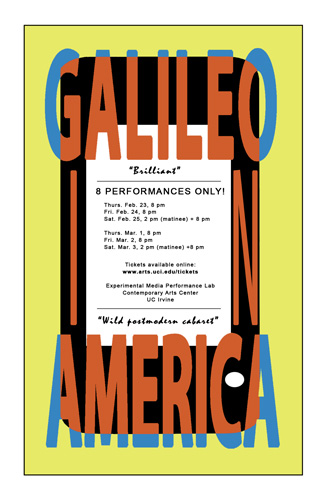 Huge thanks are owed to everyone who helped to make this show possible over its eight-year production trajectory. Galileo in America has been supported by: the University of California, Irvine, the Institute of Cultural Inquiry, Los Angeles, the Goethe Institute, Los Angeles, and the Villa Aurora, Pacific Palisades as well as contributions from individual donors, among whom we would like especially to thank: Elizabeth Curtis, Joan Starr, Christel Dillbohner, Justine Moore, Ravi Narasimhan, Zeph Bender, Clair Allen, Lothar Schmitz, and all our anonymous angels: you know who you are!

For production and technical support without which this project could never have taken wing, we are deeply grateful to: Keith Bangs and his crew, John Crawford, Jason Valdry, Lonnie Alcaraz, Mike Hooker, BC Keller, Luke Hegel-Cantarella, Toby Weiner, Ron Cargile, Don Hill, David Walker, Lesly Martin, and Miles Coolidge. We would also like to thank the members of the Columbia Theater Cooperative who helped to initiate this project: Aïda Croal, Angie Fie, Justine Moore, Anson Mount, Jennifer Plante, and Andrew Welsh; as well as Joseph Byrd, Melina Bielefelt, and Tracey A. Leigh.