"Evidence of Evidence"

2011. A research installation I did at the Institute of Cultural Inquiry with writer Ruth Coppens, as part of the 100/10 series of exhibitions. Two blog posts about the show can be found here and here, and there is more general information here and here. A limited edition of the show catalog is available from the ICI here.

Hangmen Also Die

2010. A performance-installation project with director Robert Allen commissioned for the Laguna Art Museum in the OSCENE 2010 exhibition.

Chronovacuum

2009. A short single-channel video constructed from collected webcam imagery. It was included in the exhibition "Out of School". Pix, video, more info...

Rapture installations

2009. These were two different installations created from my 2008 Playing the Rapture project for the exhibitions "Mediated" and "Scalable Relations". Pix and more info...

"Institute: Under Hand"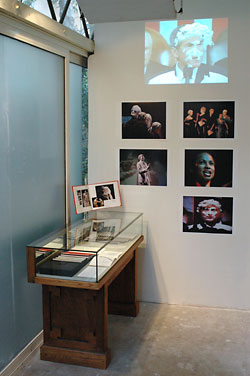 Feb. 27-April 19, 2009. An exhibition at the Institute of Cultural Inquiry that featured a range of the ICI's projects over the past decade. Included documentation of my work with the Plaintext Players, a pioneering internet performance group. Visible in this photograph of the installation: performance stills, a video projection from The Roman Forum Project 2003, and a vitrine of scripts and other ephemera.